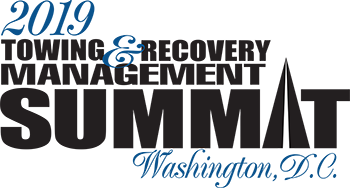 Capital Hilton,
Washington, D.C.
July 31 - August 2, 2019
Countdown to the 2019 Towing & Recovery Manangement Summit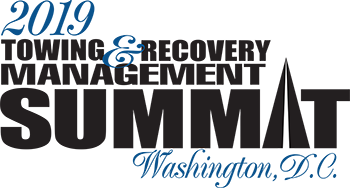 Capital Hilton,
Washington, D.C.
July 31 - August 2, 2019
2018 Seminar Topics
As of February 2, 2018. Subject to change.
CREATING A RISK MANAGEMENT PLAYBOOK FOR YOUR COMPANY
There's a successful approach to building and maintaining a culture of safety within your organization that focuses on gaining buy-in from employees, selecting the right vehicle/safety technology and managing driver behavior. Learn how to incorporate this approach into your towing company.
PANEL: WHAT A COMPANY SHOULD DO WHEN CATASTROPHE STRIKES
What should your towing company do in the event of a catastrophic event? If you are uncertain, you are among the majority of owners. This panel of experts shares a wealth of timely and relevant information that allows you to be fully prepared for an event that has the potential to take incident management out of your hands.
HOW TO MANAGE/PROTECT COMPANY ASSETS
You've worked hard to build your company – and assets. Learn strategies from a wealth management specialist to shield your wealth and protect your company and loved ones.
PANEL: CREATING YOUR OWN EXIT STRATEGY
Owners: Learn about options from fellow towing company owners and exit strategy specialists on how to establish your exit plan.
DEVELOPING NEW AND UP AND COMING LEADERS
Is your leadership pipeline part of your business plan strategy? Are you getting your greatest ROI with your human capital? Your team today is the future of your business. What behaviors do you need to be looking for? Does being a great driver mean they are a great leader? How do you develop your new leaders? Get the answers to these questions and more.
ENGAGED EMPLOYEES ARE PRODUCTIVE EMPLOYEES
Connecting with employees is not just a "feel good" activity. It has a direct effect on your bottom line. Companies with engaged employees outperform their competition and costs associated with call-ins and turnover are reduced. What is it costing your company to have disengaged employees? Walk away from this session with specific and manageable action items you can implement to grow engagement and keep an active pulse on your operation as well as employee group and individual tone/morale.
PANEL: THE DISPATCHER DILEMMA
Dispatchers are a towing company's first line of client contact. They can make or break a company through their interaction with customers and drivers. Their questions help determine what equipment is dispatched and their ETAs can impact your company's credibility. An important role? Absolutely. Are towing company owners hurting their businesses by not hiring the right people as dispatchers? Hear tips and suggestions from other industry professionals involved with dispatch.
HOW TO TURN YOUR DISPATCH INTO A REVENUE GENERATING DEPARTMENT
A typical towing company dispatch department is considered a cost of business. What if your dispatch department could also generate income? How great would it be for your company if your dispatchers were more like sales people and less like order takers? Hear tips on how to improve your dispatcher area – what they say and how they say it.
WHAT THE TAX REFORM MAY MEAN TO YOUR BUSINESS
With the recent passage of the Tax Cuts and Jobs Act comes the biggest change in tax legislation in more than 30 years – impacting virtually all businesses and individuals in some way. Gain insight from a CPA about changes in the legislation that may impact you and your business.
TRUCKING AND TERRORISM PART II
Hear more from Tennessee Homeland Security special agent Barry Crotzer as he continues last year's discussion topic on how to prepare for terrorism threats on today's roadways.
MOBILE PAYMENTS HEADING YOUR WAY
The mobile pay concept will catch fire in the U.S. in the next 24 months. In China, close to 80% of all transactions are done on WiPay or AliPay. What will accepting mobile payments mean to your business and what can you do now to prepare? [NOTE: Mobile payment services allow customers to pay via a smartphone application with two-factor identification such as touch ID or face ID.
40 UNDER 40 NETWORKING ROUNDTABLE
Networking is the intersection between friendship and business. It's not just about meeting people, it's about knowing people. Meet fellow towing professionals similar to you – those involved in a towing company on a management/ownership level who are ready to address current and trending issues.
Guest speaker Daniel Ostrov of Whiterail Reviews will discuss Social Media for the towing industry, taking the time to help attendees find real-world solutions to issues towing companies face marketing their business. Bring your questions regarding Social Media in today's towing world.
Note: Open to 40 Years old or younger
DEFENSE TRAINING FOR WOMEN BY WOMEN
This 2-hour session focuses on situational awareness and personal safety. Learn to hone your instincts to be better aware of your surroundings as well as some basic self-defense tactics to use if under attack.
The Towing & Recovery Management Summit thanks the following sponsors for supporting this one-of-a-kind event bettering the industry: