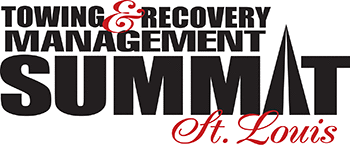 St. Louis Union Station, St. Louis, MO
June 15-17,2016

St. Louis Tow Summit
Thank you to the vendors and attendees of the third annual Towing & Recovery Management Summit, held at the historic and beautiful Union Station Hotel in St. Louis, for making the conference a huge success.
Attendees have high expectations of the Summit as the place to learn from professionals and fellow towing industry owners and leaders in a truly informative environment. As expected, vendors and attendees took advantage of the Summit by attending seminars, asking thoughtful questions and networking with each other. Your business will be better for it.
Tow Times honored three industry leaders during the Summit for their contributions to the towing and recovery industry. They are:
• Geoff Russell of Kauff's Transportation Systems, West Palm Beach, Fla., earned the Lifetime Achievement Award
• Lee Roberts of Roberts Heavy-Duty Towing, Lexington, Ky., won the Champion Award
• Michael Aspesi of Ted's of Fayville,  Southborough, Mass., received  the Rising Star Award
The Summit will be back in 2017 with a new program to keep towing operators and leaders informed and on the cutting edge of the towing and recovery industry.
Stay tuned as we firm up plans for next year's conference and share details right here and on www.TowTimes.com.
"We talked a lot, listened even more and had fun doing it."
Phillip Julian
"It was a great event. I hope to encourage more participation as this Tow Summit Series continues."
Ron Parrish
"Calling this Tow Summit a Grand Slam is probably as close to perfect a description as one could ask for. … The Summit has grown in presence and scope. The presenters are carefully vetted and come from the successful companies we all look to and speak of. … The Tow Summits are not meant for those who are not committed. It is for those who look to prosper not only in towing, but in diversification. Those who plan for tomorrow. "
Don Moreland
Associations that Participated
The following associations offered Summit registration discounts to their members.