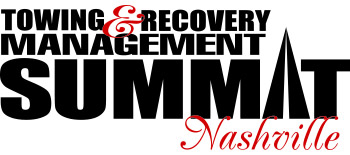 Gaylord Opryland Resort, Nashville, TN
July 25-27, 2018
The Intersection of Towing and Business
5 Reasons to Attend the 2018 Tow Summit
The towing and recovery industry continues to undergo rapid changes. Keeping your eye on the road has a much broader meaning than sitting behind a steering wheel. Moving forward, your company must address technology, HR issues, tax changes, legislation … and much more. Don't face these issues alone. Attend this year's Tow Summit to access the tools to help you face what's headed your way.
Insight: The towing industry is not alone in its challenges to hire and keep dispatchers. Hear how other industries, including a large police dispatch center, are addressing similar problems on the Dispatch Dilemma panel.
Expertise: You've heard about and read the hype about tax reform. Now hear the truth from Ron Mills, a CPA at Carr, Riggs & Ingram, about how your business could be impacted by the new tax plan.
Intrigue: Hear more from Tennessee Homeland Security special agent Barry Crotzer as he continues last year's discussion topic on how to prepare for Terrorism Threats on Today's Roadways.
Income: A lot of towing businesses do not collect up to 10% of potential income either through incomplete invoices or short pay from vendors. Are you leaving money on the table?
Fun: Nashville, Tennessee ranks 8th on Travel & Leisure 2017 list of America's Favorite Cities. Come to Nashville for the Tow Summit and find out. You'll run out of time!
Gaylord Opryland Resort: $199/night plus taxes and fees
Reduced room rate available Tuesday, July 24 – Saturday, July 28.
Primary Attendee
Second/Third Attendee from Same Company: $941.50 each
Register Now
Association Member Discounted Rate
Valid only for associations that have negotiated discounted rates
Second/Third Attendee from Same Company: $871.50
Register Now
The following associations have negotiated rates for their members. Check with your association for a discount code.
Arizona Professional Towing & Recovery Association
Association of Professional Towers (OH)
California Tow Truck Association
Garden State Towing Association (NJ)
Idaho State Towing Association
Statewide Towing Association (MA)
Sunshine State Towing Association (FL)
Tennessee Tow Truck Association
Texas Towing & Storage Association
Towing & Recovery Association of America
Towing & Recovery Association of Georgia
Towing & Recovery Association of Ohio
Towing & Recovery Professionals of Colorado
"I always enjoy the Summit and get an overwhelming amount of info to bring back to our company."

Bart Lundy
Southside Wrecker
Secretary, TRAG
"The entire event was amazing. The quality of the seminars, the networking and sharing of knowledge was unprecedented! I took an entire notebook of notes! Not only were the seminars chockful of information but the attendees were more than willing to share ideas, best practices and encouragement… We were all there to help each other."

Kim Lowell
Executive Director, Statewide Towing Association
"Meeting quality people. Learned a lot of quality information. The professional manner of this class of towers was impressive."

Anonymous
2017 Summit
The Towing & Recovery Management Summit thanks the following sponsors for supporting this one-of-a-kind event bettering the industry: